13 Best Korean Anti-aging Skin Care Products to Rejuvenate Your Skin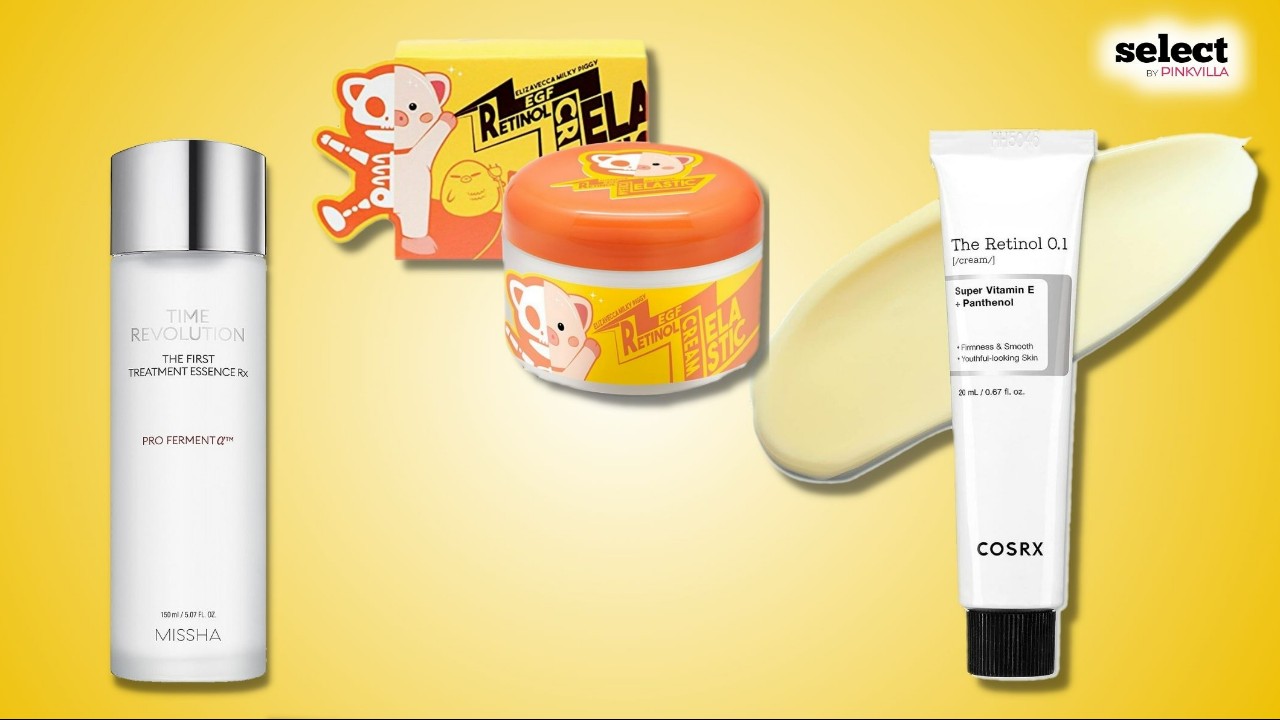 The products curated for this article are independently chosen by the
editorial team. If you make a purchase through the links mentioned below, we may receive a commission. Check out our product
research & curation process
Korean Beauty has taken the skincare routine to an all-new level with the best Korean anti-aging skin care products that work like magic to transform the appearance of your skin. Though we are talking about anti-aging products, these equally contribute to a holistic skincare approach to keeping your skin hydrated. Korean skincare is known for its rich, unique natural ingredients and botanical extracts that promote healthy skin. Whether it's unusual components like snail slime or more familiar ones like eggs, the emphasis is on nourishing and safe options that support skin wellness.
Skin aging can be influenced and accelerated by factors like lifestyle, diet, UV exposure, and the environment. These factors can draw lines and shadows on the skin's surface, leading to premature aging. Based on our observations, we have found that Korean anti-aging skin care products are designed to erase these traces of skin aging and breathe life back into tired skin by rejuvenating and restoring its natural glow. This is not just skincare; it's a revitalizing elixir crafted to make you feel young again.
These anti-aging products represent a symbol of quality, innovation, and effectiveness. With all-natural ingredients, sophisticated packaging, and pleasing textures, Korean anti-aging skincare ensures better results with every use. Let's unlock the secret to ageless beauty and say yes to a youthful, vibrant appearance.
Our top picks
Best for combination skin
13 Best Korean Anti-Aging Skin Care Products for Wrinkle-Free Skin
Designed for oily, combination, dry, and normal skin types, this serum from SeoulCeuticals is the secret key to unlocking youthful radiance. With the powerhouse combination of natural, organic Vitamin C, plant-based Hyaluronic Acid, Ferulic Acid, Vitamin E, Citrus Stem Cells, Centella (Cica), and Organic Aloe, this product is your ally against aging and wrinkles. Furthermore, it is one of the best Korean face serums that minimizes fine lines, crow's feet, and dullness but also brightens your complexion, making it a must-have in your beauty regimen.
Pros
Quick results
Shrinks pores
Youthful complexion
Clears acne
Minimizes scars
Sunspot reduction
Cons
The citrus scent might not appeal to everyone
Combined with the power of red wine, antioxidants, vitamins, minerals, and over 300 kinds of nutrients, Dermalogy by NEOGENLAB brings bio-peel gauze peeling pads that offer a unique 2-in-1 chemical and physical peeling experience. Specifically crafted for dry skin, these pads are soaked in a blend of lactic acid, hyaluronic acid, and PHA, promoting firmer, tighter, and healthier glowing delicate skin. Utilizing red wine's anti-oxidative properties and resveratrol's cell repair benefits, these 100% pure cotton pads reveal a complexion that's soft, clear, and age-defiant.
Pros
Gentle exfoliation
Gives firm skin
Glowing complexion
Prevents signs of aging
Dermatologist tested
Cons
May not suit extremely sensitive skin
Revitalize and refresh your skin with the power of COSRX Retinol 0.1% Eye Cream. This Korean anti-aging skincare product is fortified with retinol, a form of active vitamin A, that significantly reduces fine lines and wrinkles. The blend of 1% panthenol and super vitamin E (tocotrienol) works synergistically to moisturize and combat signs of aging, leaving your face glowing with youthful radiance. Added to that, it is gentle enough for daily use. Also, the formula is free from harmful substances, promoting skin elasticity and a smooth appearance.
Pros
Reduces wrinkles
Firms skin
Moisturizes well
Increases elasticity
Hypoallergenic
Parabens-free
Get into the Korean anti-aging skincare routine and pamper your skin with Elizavecca's Wrinkle Care Retinol Cream. This 3.53-ounce night cream is designed to infuse the skin with pure retinol and swiftlet nest extract (69.9%), helping to diminish the appearance of wrinkles. The gentle formula evens out skin texture and tone, providing a revitalizing treatment for all skin types. While primarily recommended for night care, it can be used during the day with sun cream application.
Pros
Diminishes wrinkles
Evens texture
Revitalizes skin
Affordable
Suitable all skin
Night use
It feels great to find the ultimate product for acne-prone skin and now you can get to enjoy the night of rejuvenation with LANEIGE Water Sleeping Mask. This 2.3 Fl. Oz. overnight mask is crafted with sleep-biome and nourishing squalane. It's designed to strengthen the skin's moisture barrier, boosting brightness and clarity. Using this on a regular basis will nourish the skin, resulting in a clearer complexion. Just apply evenly at bedtime and rinse off the next morning for brighter skin.
Pros
Nourishes skin
Boosts brightness
Enhances clarity
Easy application
Suitable for acne-prone skin
Overnight treatment
It's time to revitalize your skin with MISSHA Time Revolution, a revolutionary skin essence. This 5.07 Fl Oz serum features a double fermented essence that enhances skin tone, texture, and hydration. Using the reactive absorption pro ferment technique and a combination of cool and warm temperature fermentations it ensures effective absorption. Made for dry and sensitive skin types, this is the best Korean anti-aging serum to aid in skin transformation through yeast fermentation and maintain hydration even under makeup.
Pros
Improves texture
Enhances tone
Boosts hydration
Fast absorption
Double fermented
Dry skin friendly
Cons
May not suit acne-prone skin
Revitalize your complexion with FAMENITY's anti-aging face mask, designed to rejuvenate the skin barrier. Formulated with EGF, 5-Peptide, botanical stem cells, and rice-fermented extract, it helps in overcoming aging signs like wrinkles and freckles. The novel stabilizing technology of this brand maintains the effectiveness of EGF, ensuring a lasting solution to skin aging. Utilizing patented technology, this sheet mask can restore the skin's youthful glow with just a weekly application.
Pros
Affordable
Rejuvenates skin
Moisturizes skin
Easy application
Suits all skin types
Weekly use
Cons
May not suit acne-prone skin
Your skin needs utmost care and this cream is your way to get a soft skin. Infused with Astragalus Root, Pyunkang Yul nutrition cream offers a unique vitality to the skin, providing deeper moisture. Instead of traditional water-based cosmetics, this Korean anti-aging cream focuses on utilizing hyaluronic acid for lasting hydration. Furthermore, its powerful ingredients ensure a zero-irritation, mild formulation that allows your skin to rest comfortably. Its rich, non-sticky texture ensures that the skin feels nourished without a greasy after-feel.
Pros
Good for daily use
Deep moisturizing
Zero irritation
Non-sticky formulation
Deep hydration
Unscented
Cons
Not suitable for oily skin
It is often hard to find a suitable product to keep oily skin clean and rejuvenated. Infused with hydrating hyaluronic acid and green tea-derived enzymes, AMOREPACIFIC treatment enzyme peel cleansing powder transforms from powder to foam. Furthermore, it is considered one of the best Korean anti-aging skin care products for the 50s that you can try out. Mainly designed for oily and combination skin, this gentle exfoliator helps to strengthen the skin's moisture barrier by removing dead skin cells.
Pros
Good amount
Improves skin texture
Powder-to-foam formula
Addresses dullness
Strengthens moisture barrier
Natural ingredients
Offering broad-spectrum SPF50 protection against both UVA and UVB rays, DERMALOGY by NEOGENLAB airy Sunscreen stands out with its lightweight and non-sticky formula. Suited for all skin types, it contains 20 types of plant extracts to soothe, moisturize, control sebum, and maintain skin health from sun damage. Also, you can easily apply it like an essence without leaving any white cast or clogging pores. And interestingly, it promotes clean beauty without harmful ingredients.
Pros
Dewy finish
Lightweight application
20 plant extracts
Non-sticky formula
Suits all skin types
Long-lasting
When thinking about the best Korean anti-aging products, DONGINBI has the coolest option for you. This Korean red ginseng essential care set is an all-in-one skincare solution containing 70ml of 1899 Single Essence EX, 50ml of Moisture & Firming Softner, Emulsion, and Red Ginseng Micro Cleansing Foam EX. Rich in 6-year-old Korean red ginseng extracts, this set offers comprehensive skin protection, strengthening the barrier and reducing wrinkles. The pure face essence provides all the benefits of red ginseng, while the Moisture Firming series promotes balanced skin pH.
Pros
Easy application
Complete skincare
Moisturizes skin
Reduces wrinkles
Quick absorbing
Elegant packaging
Unveil the beauty of your skin with a hydrating and wrinkle-refining serum from Mary & May. Made in South Korea, this 6 Peptide Complex Serum caters to all skin types. Infused with the natural invigorating scent of tea tree, this Korean serum for anti-aging provides intense hydration while working meticulously to refine wrinkles. It's your go-to solution for maintaining youthful, vibrant skin with an aromatic touch. Also, you can use this serum on a daily basis.
Pros
Affordable
Hydrates skin
Refines wrinkles
Tea tree scent
Suits all skin
Drop formulation
Healing and soothing your skin is made simple with Meebak Cica Face Moisturizer, designed specifically for women. Infused with hyaluronic acid, this cream contains Centella Asiatica, known for rebuilding the skin barrier. Furthermore, active ingredients like retinol, peptides, and niacinamide present in it help correct fine lines and keep your skin soft. With its rich, creamy consistency, it's gentle enough for various skin types. At the same time, it is one of the best Korean anti-aging moisturizers that reflects the excellence of Korean skincare.
Pros
Heals irritated skin
Corrects wrinkles
Rich creamy texture
Suitable all skin
Worth the price
Cruelty-free ingredients
These 13 best anti-aging Korean products are so thoughtfully formulated that you can be assured of giving your skin the care and attention it rightfully deserves. Let's take a step further to experience a glowing appearance that proves age is just a number! 
How Do I Choose the Right Korean Anti-aging Products for My Skin?
Choosing the right Korean anti-aging products is truly a great decision in itself. Here are some guidelines that may help you make the best choice:
1. Decode your skin's language: Your skin, whether it's oily, dry, or sensitive, has its own language. Choose products that understand and fulfill its unique needs. Recognizing the individuality of your skin is vital to selecting the right products. Different skin types have distinct needs; dry skin craves added moisture, oily skin prefers oil-free formulations, and sensitive skin needs gentle care to avoid irritation. Selecting products that suit your skin type ensures they complement rather than conflict with specific skin concerns such as acne or sensitivity.
2. Pinpoint the concerns: Whether wrinkles, fine lines, or sagging, zero in on what you need most. Products targeting your specific concerns are your best allies.
3. Go for an ingredient analysis: Find the best anti-aging ingredients, like retinol, hyaluronic acid, or peptides, that have the power to turn back time.
Ingredients you should look for: Key ingredients for maintaining youthful and vibrant skin include vitamin C, peptides, collagen, hyaluronic acid, retinol, alpha-lipoic acid, niacinamide, lactic acid, and antioxidants. Some unique nourishing ingredients like snail mucin, amino acids, and red ginseng may also enhance the skin's suppleness and health.
Ingredients you should avoid: While most Korean skincare products focus on gentle, non-toxic formulations, it's still wise to inspect the ingredient list. Be cautious of products containing potentially harmful substances such as coal tar, formaldehyde, phthalate, mineral oil, and oxybenzone, as these can be harsh on the skin.
4. Follow your senses: Choose the best products from Korean skincare for aging skin that please your senses. It must have a texture that feels good on your skin and a fragrance that delights your skincare ritual.
5. Listen to those who have already experienced it: Go through user reviews and seek professional advice. They can lead you to the perfect product, like guiding stars.
Finding the right Korean anti-aging products is an intricate but rewarding journey. Go through the tips mentioned above and get into a rejuvenating skincare routine.
How to Build an Effective Anti-aging Routine with Korean Skin Care Products?
Crafting the perfect anti-aging routine with Korean skincare is like taking your skin through a pleasant experience. Here's how you should make it perfect.
1. Deep cleansing: Start your day with a gentle cleanser. It ensures fresh skin with no dirt.
2. Look for the right prep: Toners restore balance and harmony, preparing your skin to receive the nourishing care that follows.
3. Don't forget the age-defying serums: Serums are rich in age-defying ingredients. With its gradual use, you can experience changes you have always desired.
4. Use a moisturizer: A moisturizer is a must-have to keep your skin hydrated and make it supple.
5. Sunscreen is your best friend: Sunscreen guards your skin against UV rays. Know the proper usage and apply it carefully.
6. Add exfoliators and masks: Regular exfoliation and masks create a rejuvenating rhythm, making your skin dance with joy and vitality.
The path to youthful, rejuvenated skin is now accessible through the marvelous innovations in Korean skincare. The best Korean anti-aging skin care products we have gathered, as per our expertise, combine nature and science to improve your appearance. Ranging from serums to moisturizers, each of the products promises a transformation that you have hardly imagined. Investing in these products is certainly a great decision to nurture your unique skin. Opting for these Korean gems is a ticket to timeless, radiant skin.
FAQ's
Is Korean skincare really worth it?
Yes, Korean skincare is known for its high-quality ingredients and advanced formulas. So, if you are thinking of purchasing Korean skincare products, it is worth the investment.
Why are Korean skincare products so good?
Korean skincare products use innovative ingredients and technologies. They focus on hydration and preventive care to enhance your skin tone and health.
What are the most effective anti-aging ingredients?
Retinol, hyaluronic acid, peptides, vitamin C, and antioxidants are some of the most effective anti-aging ingredients.
What is the best over-the-counter anti-aging skincare line?
The best over-the-counter lines may differ. But most of the time, these include products with proven ingredients like retinol, peptides, and antioxidants.
How can I follow a Korean anti-aging skincare routine?
A Korean anti-aging routine typically involves cleansing, toning, and applying essence, serum, moisturizer, and sunscreen tailored to your skin's needs.
Are Korean anti-aging products suitable for all skin types?
Most Korean anti-aging products are formulated for various skin types. However, it is important to check the label for specific skin type recommendations.
At what age should I start using Korean anti-aging products?
You may start using Korean anti-aging products in your late 20s to early 30s, focusing on prevention and maintenance.
Do Korean anti-aging products show visible results?
Yes, Korean anti-aging products often show visible results with consistent use.
Why Trust Pinkvilla
Anoushka, our in-house skincare expert loves to stay on top of skincare trends and has no wonder been intrigued by all the noise K-Beauty has been making. After trying out and testing several Korean anti-aging products and analyzing and researching plenty more, she has come up with this top curated list of the best Korean anti-aging skincare products that can bring a positive change to your skincare routine and retain your youthful look effortlessly. 
Our product experts study the specifications of every product we suggest and try them out to bring what's proven to be worthy of your money, time, and energy. We also have subject matter experts from various fields like Fashion, Skincare, Haircare, Home Decor, and Health & Fitness onboard to make sure our suggestions are credible and trustworthy. You can trust Select to be your faithful shopping guide for all the right reasons!