15 Best Anti-Aging Serums for Fine Lines and Wrinkles in 2022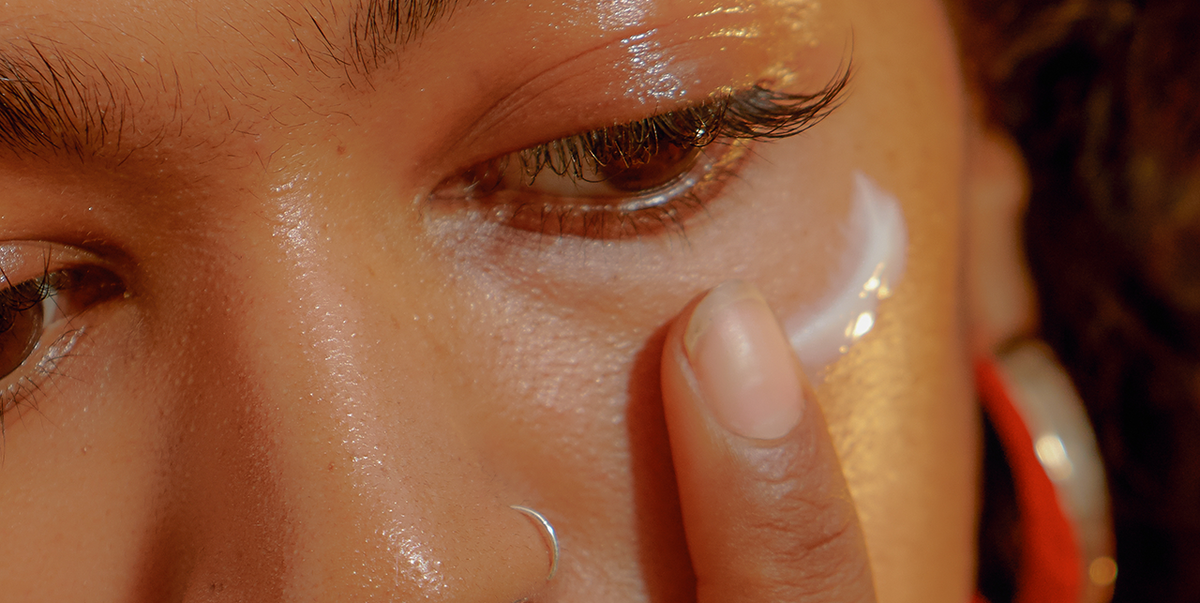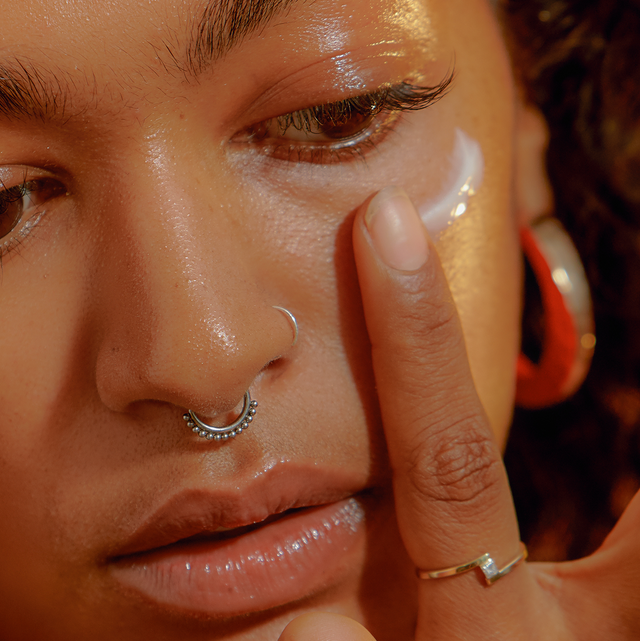 Getty Images
Before we can dive into the best anti-aging serums, we need to discuss a few things first: (1) Aging is very normal. If you're not aging, you're not living, so aging is very much a good thing. (2) Changes to our skin, like the appearance of fine lines, wrinkles, and dark spots, that happen as we age are also very normal and are largely the result of years of UV exposure and a decline in collagen and elastin levels in the skin. So if you're seeing signs of aging on your face, neck, and chest, don't freak—this is a part of life, and there are plenty of excellent anti-aging moisturizers and serums on the market to help amp up your skin's elasticity.
A serum can be particularly useful because of how quickly it absorbs into the skin—but they're not all created equal. So to help you narrow down all the options, I reached out to dermatologist Elyse Love, MD, licensed esthetician Brittany Blancato, New York-based dermatologist Hadley King, MD, and Boston-based dermatologist Joyce Imahiyerobo-Ip, MD, for their top picks and pulled together the most important things to know when shopping for a new anti-aging serum. But first, a sneak peek:
Our picks for the best anti-aging serums of 2022:
Ahead, the entire list of the 15 best anti-aging serums. Packed with tried-and-true smoothing and brightening ingredients—like retinol, peptides, acids, and antioxidants—these serums are guaranteed to give your skin a dewy, smooth glow.
Advertisement – Continue Reading Below
Best Anti-Aging Serum with Retinol
Obagi Clinical Retinol 0.5
Best Cult-Favorite Anti-Aging Serum
Sunday Riley Good Genes All-In-One Lactic Acid Treatment
Best Anti-Aging Serum for Dry Skin
Alastin Restorative Skin Complex with TriHex Technology
Best Splurge Anti-Aging Serum
SkinMedica TNS Advanced+ Serum
Best Celeb-Favorite Anti-Aging Serum
Shani Darden Skin Care Retinol Reform
Best Drugstore Anti-Aging Serum
Neutrogena Rapid Wrinkle Repair Retinol Pro+ .5% Power Serum
Best Anti-Aging Serum with Growth Factors
ZO Skin Health Growth Factor Serum
Best Resurfacing Anti-Aging Serum
U Beauty Resurfacing Compound
Best Anti-Aging Serum for Oily and Acne-Prone Skin
Skinbetter Science AlphaRet Clearing Serum
Best Anti-Aging Serum for Dull Skin
BeautyStat Universal C Skin Refiner
Best Anti-Aging Serum with Peptides
Drunk Elephant Protini Powerpeptide Resurf Serum
Best All-Natural Anti-Aging Serum
Juice Beauty Stem Cellular Anti-Wrinkle Booster Serum
Best Anti-Aging Serum for Sensitive Skin
Eau Thermale Avène RetrinAL Advanced Correcting Serum
Best Anti-Aging Serum for Melanin-Rich Skin
Mele Even Dark Spot Control Serum
Best Vegan Anti-Aging Serum
PÜR Go With the Glow Niacinamide Drops
Do anti-aging serums work?
Absolutely, say the experts. "Most skin care products simply sit on top of the skin. However, a good serum is designed to penetrate deeply," says Dr. Ip. For the most part, serums have a light, clear gel-based consistency and contain high concentrations of their active ingredients. "Every skin type can benefit from a good serum, including those with sensitive skin and those who may be pregnant or nursing," adds Dr. Ip, but she cautions pregnant people to stay away from retinol ingredients (you can use bakuchiol). If you have sensitive skin, consider staying away from botanical extracts, fragrances, or super-high ingredient concentrations (Dr. King adds hydroxy acids, too). Chat with your derm if you have questions.
Also to note? It can take time, at least six weeks, for you to see significant changes in your skin. So be patient, especially if you're using a gentle concentration. And, as always, "Make sure to be vigilant about sun protection—because this is the best anti-aging prevention we have, and also because some of these ingredients can make the skin more sun sensitive," says Dr. King.
How to choose an anti-aging serum:
Assess the active ingredients in the formula.
There are a ton of different ingredients used in anti-aging serums, and they each have their own specific benefits. Use this lil cheat sheet below to help you narrow down the options.
Retinol: Derm-favorite anti-aging ingredient that jumpstarts cell turnover and stimulates collagen and elastin production.
AHAs: Exfoliating acids that resurface, smooth, and brighten skin.
Peptides, stem cells, and growth factors: Skin regenerating ingredients that improve skin function and signal collagen and elastin production.
Vitamin C and niacinamide: Two of the best skin-brightening antioxidants that protect skin from the aging effects of free radical damage.
Hyaluronic acid: Humectant that hydrates skin to temporarily plump fine lines.
Consider your skincare habits and current routine.
Your skincare habits and existing routine should influence the type of anti-aging serum you choose. For example, most serums with exfoliating acids and/or retinol are designed to be used at night, so if you're the kind of person who forgets to wash their face before bed, they're prob not the best formulas for you. And if you currently use a moisturizer or face mask with AHAs and BHAs, you may want to reconsider using a serum with acids or retinol as well since doubling up on exfoliating ingredients can cause skin irritation.
Prioritize your specific skin needs.
There's not one serum that works for everyone. "If you are looking for a serum that is anti-aging, you may want to consider one that contains retinol, caffeine, green tea, or sodium hyaluronate. A brightening serum might contain ingredients like azelaic acid, kojic acid, vitamin C, or glycolic acid," says Dr. Ip.
"A hydrating serum will contain humectants like glycerin, dimethicone, and hyaluronic acid. Finally, antioxidant serums (which are essential for helping the skin repair from environmental free radical damage) may contain vitamin C, vitamin E, green tea, polyphenols, resveratrol, and niacinamide."
Elyse Love, MD, is a board-certified dermatologist at GlamDerm in New York, NY. Dr. Love is an expert in clinical and cosmetic dermatologist and takes a holistic approach to skin wellness that includes fitness and diet.
Brittany Blancato is a licensed medical esthetician based in New York, NY. Blancato's trusted expertise and simple but effective methods using the best technologies and devices in the medical-grade aesthetics world has made her one of the most sought-after experts in the industry.
Joyce Imahiyerobo-Ip, MD, is the CEO of Vibrant Dermatology and Skin Bar MD and a dermatologist in Boston, MA.
Hadley King, MD, is a dermatologist who specializes in medical and cosmetic dermatology in New York, NY.
Lauren Balsamo is deputy beauty director at Cosmopolitan with nine years of experience researching, writing, and editing skincare stories that range from the best retinol eye creams to the best lasers for acne scars. She's an authority in all skincare categories but an expert when it comes to anti-aging products and treatments. She regularly tests and analyzes anti-aging serums for efficacy, while working with the industry's top dermatologists and estheticians to assess new formulas, brands, and technologies.
Katherine J Igoe is a contributing editor at Cosmopolitan, and has eleven years of experience as a freelancer—with nearly five of those years writing about beauty, fashion, and lifestyle, including stretch mark creams and under-eye bag treatments. Her anti-aging serum picks were based on product reviews, ratings, and personal testing, along with information from experts.
Advertisement – Continue Reading Below