15 Best Retinol Eye Creams to Blur out Wrinkles And Fine Lines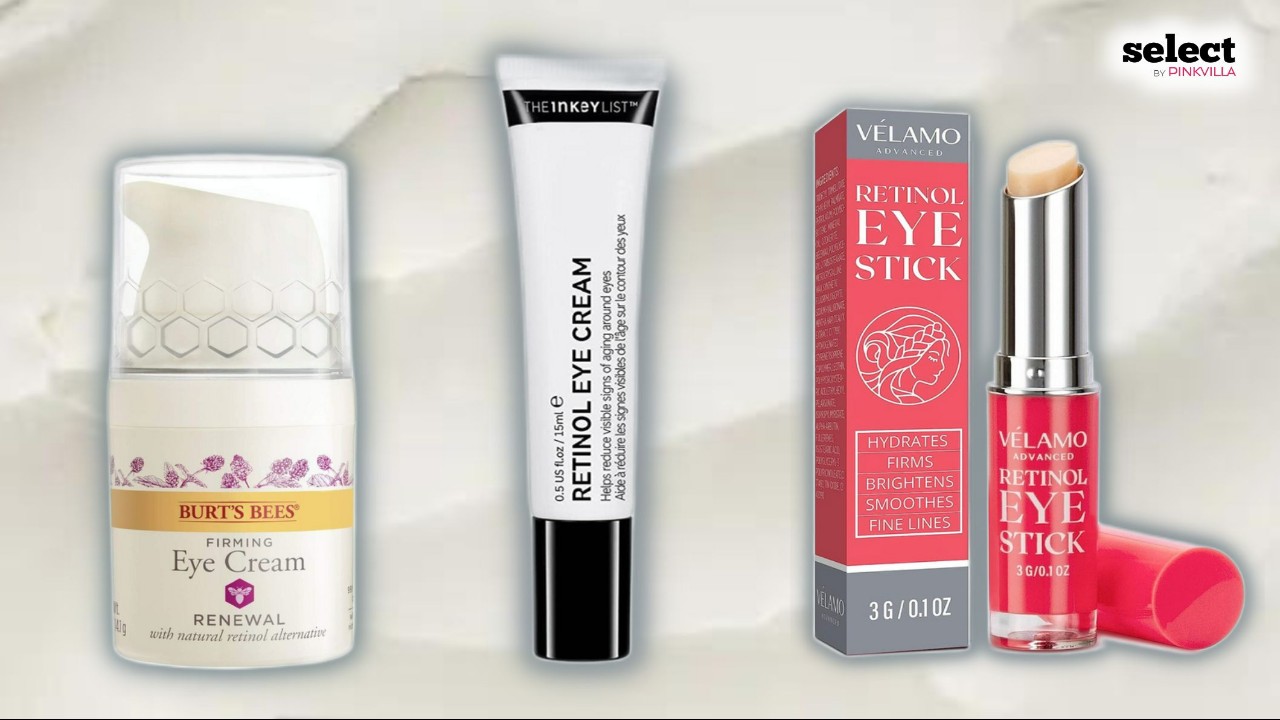 The products curated for this article are independently chosen by the
editorial team. If you make a purchase through the links mentioned below, we may receive a commission. Check out our product
research & curation process
Our under-eye area is the first place to catch aging signs as we mature. Skin woes like pigmentation, wrinkles, fine lines, loss of moisture, puffy eyes, uneven texture, sagginess, and sun damage spots around the delicate skin of your eyes start to show as early as in the mid 20s, and finding the perfect cure for them can be a bit challenging. However, based on our first hand experience, we can say that these best retinol eye creams are the only proven solution to all your aging problems. Let us tell you why! Retinol is one revolutionary ingredient that increases collagen production, thereby boosting the elasticity of your skin, exfoliating the upper layer, and making the tissues resilient to stretching.
According to board-certified dermatologists, the topical vitamin A derivative is a proven ingredient to beat dark circles, and reverse the effect of sun damage, and no wonder why it is widely used to facilitate quicker and effective results in terms of skincare. It is also preferred by skincare enthusiasts around the world for having the capability of increasing skin cell turnover, which is an essential part of promoting youthful skin. If used in the right concentration and that too gradually, it can work wonders within a few days to enhance the texture and appearance of your mature skin. So, without further ado, let's get started!
Our top picks
Plump up the Under-eye Area
15 Best Retinol Eye Creams That Work Wonders for Youthful Under-eyes
Enriched with vitamin C and hyaluronic acid, the Neutrogena retinol eye cream takes the upper hand at minimizing the appearance of dark circles, wrinkles, and crow's feet while increasing the level of hydration of the sensitive area at the same time. It also brightens the appearance of your under-eye without causing any potential irritation. Plus, the dermatologically-tested product is formulated without mineral oil, parabens, and dyes to ensure further protection. All in all, you will be at a great loss if you don't add it to your beauty stash!
Pros
Minimizes fine lines
Blurs out crow's feet
Paraben-free
Dermatologically-tested
Dye-free
Hydrates under-eye area
L'oreal Paris has come up with its effective Revitalift range that has been known to deliver the most effective anti-aging products. Made of hyaluronic acid, retinol, and vitamin C, the Triple Power Hydrating eye cream not only minimizes the appearance of fine lines, wrinkles, and crow's feet, but it also depuffs the under-eye area for a firmer-looking skin. Addedly, the non-greasy texture quickly gets absorbed into the skin and leaves zero residue which is indeed a boon anyday!
Pros
Smoothes fine lines
Depuffs eyes
Non-greasy texture
Hydrates eye area for 24 hours
Minimizes appearance of crow's feet
Visibly firms under-eye area
The dermatologically and ophthalmologically-tested retinol product claims to cause no irritation as you start to use/ the product. Instead, it visibly reduces wrinkles within the first 12 weeks of use while evening out the dark spots for a youthful appearance. Not only that, but the RoC retinol eye cream also masterfully lifts the under-eye area and diminishes puffiness gradually. Lastly, the clinically-proven eye cream claims to help you appear 10 years younger with consistent and right usage, and we think that it couldn't get better than this!
Pros
Dermatologically-tested
Clinically-proven
Firms under-eye area
Diminishes puffiness
Visibly reduces wrinkles
Causes zero irritation
The retinol eye cream helps you look great and feel confident thanks to the powerful formula that makes you appear youthful with each passing day! It gently improves sensitive skin and reduces puffiness for a firmer and brighter under-eye area. Addedly, infused with retinol, hyaluronic acid, and tripeptide complex, the cream effectively promotes skin elasticity and improves skin tone while minimizing the appearance of fine lines, wrinkles, and crow's feet. We highly recommend people to include it in their nighttime skincare routine to unleash top-notch results!
Pros
Targets puffiness
Smoothes wrinkles
Paraben-free
Dermatologically-tested
Brightens under-eye area
Plump up the skin around eyes
Velamo offers an under-eye cream with a one-of-a-kind packaging, and we think it can be the most hassle-free product that you can carry or use on-the-go! It also claims to give you visible results within 3-4 weeks by brightening the under-eye area and reducing fine lines, wrinkles, and dark circles at the same time. Addedly, the buttery formula glides over your skin smoothly without leaving a residue. Loaded with clean ingredients like encapsulated retinol, vegan squalane, power peptide complex, and astaxanthin, it further helps you deal with other pesky problems related to the delicate skin of your under-eye area when used correctly!
Pros
Depuffs under-eye area
Firms skin
Brightens skin
Minimizes wrinkles
Suits sensitive skin
Vegan-friendly
Loaded with retinoid complex and vitamin B3+, the lightweight night eye cream gets absorbed quickly into the skin for quicker results. Plus, it gives a matte finish right after first use, which is excellent for people with oily skin. It also ensures 24 hours of constant hydration for a plumper and more youthful appearance. Lastly, the magical product regenerates the sensitive skin around your eye area while smoothing out fine lines, wrinkles, and crow's feet.
Pros
Leaves no residue
Ensures 24 hours of hydration
Plumps up under-eye area
Regenerates sensitive skin
Brightens up the appearance
Gives a matte finish
Along with retinol, the eye cream also consists of effective ingredients like bakuchiol, squalane, ceramide, cica, aloe vera, and lactic acid that take the upper hand at firming your under-eye area while minimizing the appearance of fine lines, wrinkles, and crow's feet. It also improves your skin texture and brightens up pigmented skin for a youthful glow. Furthermore, the anti-aging formula naturally hydrates and nourishes the skin to improve dullness and even out the skin tone.
Pros
Firms under-eye area
Minimizes fine lines
Provides youthful glow
Brightens the appearance
Paraben-free
Reduces dullness
The repair eye cream is loaded with effective ingredients like avocado oil, peptides, collagen, retinol, and hyaluronic acid to give you the ultimate results that you have been looking for! It brightens the under-eye area while depuffing it at the same time, all thanks to the 3% caffeine and 5% niacinamide that work like magic. The powerful ingredients also tighten the skin in the under-eye area while reducing the appearance of fine lines and wrinkles. And we think it can be a powerful addition to your skincare regime!
Pros
Stimulates cell renewal
Depuffs eyes
Reduces wrinkles
Increases collagen production
Nourishes skin
Prevents moisture loss
Cons
Doesn't work on under-eye bags
Inkey has come up with one of the best eye creams for wrinkles which is also gentle enough to use on your under-eye area. It is enriched with slow-release retinol that gradually works on the affected area to avoid irritation. Addedly, it reduces fine lines, renews the skin, and smoothes out the wrinkles for a youthful appearance. Lastly, packed with clean ingredients, the paraben-free and vegan-friendly formula can indeed be a game changer for your skin! Hurry now, get your hands on the top-rated product.
Pros
Gentle formula
Slow release retinol
Vegan-friendly
Doesn't cause irritation
Reduces fine lines
Cruelty-free
Cons
Consistency could be better
The fast-absorbing formula of the eye cream ensures you get the quickest possible results by soaking all ingredients in. It has a lightweight texture that leaves zero residue while improving the appearance of dark circles, uneven skin tone, and crow's feet. Addedly, the eye cream is non-comedogenic and suitable for every skin type, which is an added boon undoubtedly! Not to miss, it also tightens the gentle skin around the eye area as it diminishes puffiness and under-eye bags for a total care!
Pros
Reduces dark circles
Refines skin texture
Hydrates the skin
Depuffs eyes
Non-comedogenic
Paraben-free
Cons
Might irritate the skin a little
Packed with effective ingredients like vitamin A, sodium hyaluronate, goji berry, green tea extracts, and echinacea extracts, it is one of the best eye creams with retinol that is specially formulated for men. It targets the gentle under-eye area to boost hydration and minimize the appearance of aging signs effectively. Addedly, it reduces puffiness while ensuring zero water loss for a plumpier appearance. To note more, the dermatologically-tested formula helps to beat the signs of tiredness and fatigue to give your eyes much-needed vitality!
Pros
Replenishes skin
Depuffs eyes
Brightens under-eye area
Boosts radiance
Soothes skin
Reduces fine lines
Cons
Packaging could be better
First Aid Beauty offers an effective night cream that can be applied during the day and night without any worry! Loaded with microencapsulated retinol, hyaluronic acid, vitamin C and E, allantoin, colloidal oatmeal, ceramides, and aloe vera, the eye cream with retinol provides you with confidence-boosting results while ensuring great skin health and not irritating the gentle skin of the under-eye area. It also helps in stimulating the natural collagen production that plumps up the skin for a youthful appearance.
Pros
Reduces fine lines
Stimulates collagen production
Brightens up eyes
Clinically-proven
Fragrance-free
Dermatologically-tested
Just one pump of the product for both eyes will work wonders in no time! Along with retinol, the eye cream also contains a Ruby crystal complex and maslinic acid that instantly brighten up the eye area while smoothing out wrinkles and fine lines at the same time. Furthermore, it has a lightweight formula that quickly gets absorbed into the skin to give you faster results. Last but not the least, it thoroughly moisturizes the under-eye area to deal with water loss, pigmentation issues, and bagginess.
Pros
Effective ingredients
Deals with under-eye bags
Prevents water loss
Treats pigmentation
Lightweight texture
Treats UV damage
Cons
Could be more effective on puffiness
The anti-aging treatment by Kate Somerville can be fruitful if applied during nighttime. Formulated with retinol, bio-retinol, hyaluronic acid, and an effective blend of palm, cotton, linseed oils, and bidens pilosa extracts, the firming cream visibly smoothes the under-eye area by reducing the appearance of wrinkles and fine lines. It also thoroughly moisturizes the skin around the eyes to help it appear more youthful. The weightless texture further gets easily dissolved into the skin to show faster results!
Pros
Powerful formula
Smoothens under-eye area
Moisturizes skin
Weightless
Clinically-proven
Classy packaging
Cons
Causes slight tingling effect
Nuvadermis eye cream is loaded with retinol and hyaluronic acid complexes which are excellent to boost collagen production and keep the under-eye area moisturized and wrinkle-free. Other than that, it also contains caffeine, ceramide, peptide, vitamin E, coconut and olive oil that give a refreshing effect while making your eyes look more awake. Furthermore, the product deeply hydrates and brightens the under-eye area with its powerful yet gentle formula that won't irritate your skin.
Pros
Awakens eyes
Intensely nourishing
Brightens under-eye area
Lifts the eyes
Non-greasy
Gets easily absorbed
Now that you have taken a look at the products, it is time to find out how to pick the best one among them –
How to Choose the Best Retinol Eye Cream?
Below are the parameters to keep in mind before buying the best retinol eye cream – 
a) Ingredients- Since retinol is likely to dry out your skin, make sure that your cream consists of moisturizing and soothing ingredients like glycerine, aloe vera, hyaluronic acid, vitamin E, argan oil, etc so that it can thoroughly hydrate the under-eye area.
b) Type of Retinoids- If you think there is only one type of retinol, hold on! Because there are plenty of fish in the pond. Retinol is available in other options like retinyl palmitate and retinaldehyde. These are mostly classified based on the potency.
c) Concentration- There are many more options when it comes to potency. From 0.025% to 3%, there is something for everyone! For beginners, the lowest concentration would be great to incorporate in their skin care routine. However, if you are already used to retinol, and your skin is accustomed to it, you can opt for a higher concentration.
Editor's Tip: Things to Keep in Mind Before Incorporating Retinol in Your Skincare Routine-
a) Start with the lowest potency! The lower, the better. Usually, brands incorporate 0.05-0.1% in most retinol eye creams, however, if you can find one with 0.025%, you can start with that too to minimize the chance of irritation and burns.
b) Always start with bi-weekly application with a gap of three days. Gradually, increase a day each month. After the fourth or fifth month, you can use it regularly since it should be accustomed to your skin at this point.
c) Since retinol eye creams already consist of moisturizing ingredients, you can always skip the moisturizer. However, if you feel that you need a more hydrating eye cream, go ahead.
d) Do not pair retinol with other active ingredients like niacinamide, vitamin C, salicylic acid, etc. It will cancel out all the benefits achieved from both the products.
e) Always wear retinol at night as the component is known to be the most photosensitive.
f) Do not forget to wear a broad spectrum sunscreen with at least SPF 30 the next day as retinol causes severe sunburn.
So, there you go! These best retinol eye creams are carefully crafted with the right potency to give you desired results. Through trial and error, we have also discovered that there's one retinol eye cream with the right concentration for everyone that addresses the problems it is meant to. Plus, these products are great for eliminating all the aging signs, including wrinkles, fine lines, crow's feet, pigmentations, and dark circles. Overall, all we can say is that they can be a great companion in the journey to achieve a flawless under-eye area. So, getting one will rather be an investment than a splurge.
FAQ's
Are retinol eye creams better?
Retinol eye creams are best to target issues related to aging like pigmentation, under-eye dark circles, wrinkles, fine lines, and crow's feet, etc.
What percentage of retinol is ideal for eye creams?
It depends on the potency you require to deal with your issues. If you are a beginner, it is wise to start off with lower concentration like 0.05-0.1% maximum. You can increase the potency gradually once you're used to it.It depends on the potency you require to deal with your issues. If you are a beginner, it is wise to start off with lower concentration like 0.05-0.1% maximum. You can increase the potency gradually once you're used to it.
Do retinol eye creams help reduce dark circles?
Yes, retinol eye creams are excellent to work on dark circles and pigmentation.
Is retinol eye cream better than vitamin C eye cream?
It depends. Since both of them have different capacities, it is hard to conclude which one is better. While retinol eye creams mostly deal with wrinkles, fine lines, and crow's feet, vitamin C is excellent to treat dull and dry skin.
Does retinol tighten the skin around the eyes?
Yes, retinol helps in firming the under-eye area and tightening it at the same time.
Can I use retinol under my eyes every day?
If you are a beginner, it is wise to use it twice a week. Gradually, increase the number of days each month until your skin is accustomed to using it daily.
Why Trust Pinkvilla
Our in-house skincare coach, Anoushka, mindfully did some research and tried to evaluate the performance of top-rated retinol eye creams in the market on the basis of ingredients, potency, effectiveness, and reviews. She even went a step ahead and asked some of her team members to share their reviews after trying out a few products on their aging under-eye area. Later, Anoushka carefully noted down the results as shared by them over a period of time before coming up with a verdict and rounding off the above products for her readers.
Our product experts study the specifications of every product we suggest and try them out to bring what's proven to be worthy of your money, time, and energy. We also have subject matter experts from various fields like Fashion, Skincare, Haircare, Home Decor, and Health & Fitness onboard to make sure our suggestions are credible and trustworthy. You can trust select to be your faithful shopping guide for all the right reasons!