Psychological distress in middle age may raise risk by 24%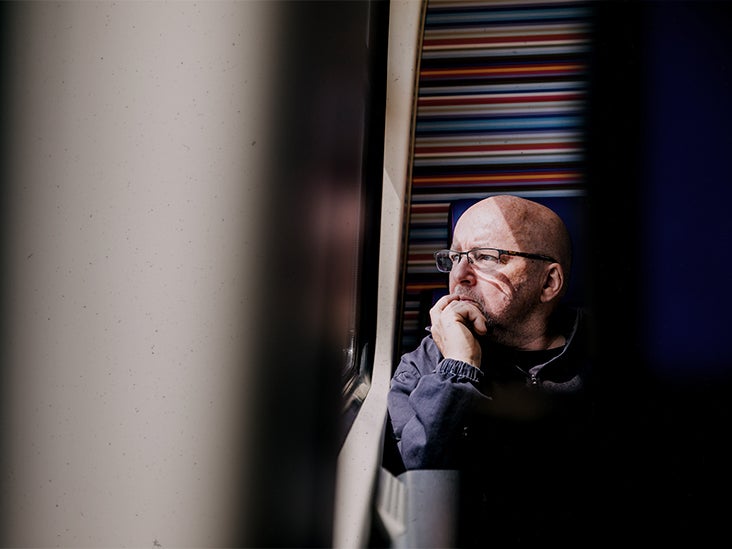 Researchers followed 67,688 individuals over an average period of 25 years to better understand the link between symptoms of dementia and psychological distress (stress, depressive mood, exhaustion, and nervousness).
The researchers found that psychological distress symptoms are associated with an increased risk of dementia.
A better understanding of dementia risk factors may pave the way for dementia prevention.
According to the World Health Organization, there are currently 55 million people worldwide living with dementia, with nearly 10 million new cases being diagnosed each year. To lower the risk of dementia in a population, researchers must understand what causes dementia.
Several studies have looked at the association between psychological distress—an umbrella term that encompasses symptoms of anxiety, depression, and stress—and dementia. However, the link between the two remains unclear.
Now, a new study published in JAMA Network Openexplores this link between psychological distress and dementia.
The study was conducted by researchers from the Finnish Institute for Health and Welfare, the University of Helsinki, and the University of Eastern Finland.
Previous studies, such as one published in 2022, concluded that individuals with depression levels that were increasingly severe, chronically high, or chronically low had a higher likelihood of developing dementia compared to individuals without depression or with decreasing depression symptoms.
Other studies have found that anxiety, vital exhaustion, and psychological stress are associated with a later onset of dementia.
On the other hand, a 28-year follow-up study on the relationship between depression and dementia found that depression was mostly caused by dementia rather than dementia being caused by depression.
Since psychological distress is common in the early stages of dementia, risk-determining studies must have a sufficiently long gap between the measurement of psychological distress and the incidence of dementia for the result to be considered reliable.
Studies with an elderly population and short follow-up periods fail to separate the early (prodromal) symptoms of dementia from causal risk factors.
Another factor to keep in mind in studies on psychological distress and dementia is the competing risk of death. According to some authors, studies should take into account whether people with mental health problems tend to die at younger ages and thus may not live long enough to show dementia.
"We could clarify that connection using one of the largest population data sets, long follow-up, and careful modeling of death [from] other causes," Dr. Sonja Sulkava, principal investigator for the study and postdoctoral researcher in Professor Tiina Paunio's group, told Medical News Today.
The study included 67,688 individuals, ages 25–74, who participated in the National FINRISK Study surveys between 1972 and 2007.
FINRISK was a large Finnish population study on risk factors in chronic, noncommunicable diseases that was carried out for 40 years, and its surveys included questions on symptoms of psychological distress.
Dementia and mortality data for each participant until December 31, 2017, was obtained from the Finnish Health Register.
"Dr. Sulkava's report adds to the new evidence that people who have mental health problems in early life tend to develop dementia in later life. This opens a promising window for dementia prevention."
— Dr. Terrie E. Moffitt, Nannerl O. Keohane professor of psychology at Duke University, and professor of social development at King's College London, who was not involved in the study
Taking into account the competing risk of death and other factors that affect the risk of dementia, the researchers found that symptoms of psychological distress were associated with a 17-24% increased risk of dementia in an etiological Poisson model and with an 8-12% increase in the incidence of dementia in the Fine-Gray model.
"Our study suggests that symptoms of psychological distress, e.g., exhaustion, depressive mood, and experience of stress, are risk factors for dementia, and not only prodromal symptoms of underlying dementia disorder. [However], [w]e cannot prove causality."
— Dr. Sonja Sulkava
Dr. Moffitt expressed confidence in the findings of this study, noting that the results converge with those of a New Zealand population study.
"In 2022, my team also reported that mental health is an early factor in later dementia. We followed 1.7 million New Zealanders for 30 years in national medical records and found that early-life mental disorder predicted 4 times greater risk of later-life dementia," she said.
Like the Finland population study, the New Zealand study also controlled for the competing risk of death.
Dr. Linda Ernstsen, associate professor at the Norwegian University of Science and Technology, who was not involved in the study, told MNT:
"The take-home message from this study is that mental health issues and feeling of distress are associated with premature death and dementia. These findings illustrate the need to focus on mental health at all ages and to identify causes and triggers."
In their paper, the researchers note that individuals who did not participate in the FINRISK survey or had missing information also had more risk factors and increased risk of dementia and mortality, and this selective participation and non-responsiveness may skew the study results.
The researchers also acknowledged that their measurement of psychological distress was not based on a validated multi-item questionnaire but on several single-item measures for different symptoms of psychological distress. However, these measures correlate significantly and show a consistent pattern of association with dementia.
Moreover, the researchers acknowledged that there was no available information about traumatic brain injury, hearing impairment, and low social contact—three established risk factors for dementia.
Dr. Sulkava added that study participants were asked to report their current symptoms of psychological distress only once, and this leads to a lack of "longitudinal perspective" for the symptoms.
Dr. Ernstsen pointed out that information about social isolation or marital status was not included. Research has found that being married protects against dementia.
"We also know that cardiovascular disease is associated with both mental health and dementia risk, but it was only the presence of diabetes that was adjusted for in the present study," Dr. Ernstsen added.
Dr. Archana Singh-Manoux, research professor and director at the French Institute of Health and Medical Research (INSERM), who was not involved in the study, told MNT that the major limitation of this study relates to reverse causation.
In one of the models used to calculate dementia risk, when the researchers excluded individuals with a follow-up of fewer than 10 years, the sensitivity analyses showed no significant associations between psychological distress and Alzheimer's disease.
"These findings suggest that the main results of the paper are due to dementia events occurring soon after the measure of psychological distress. This is a perfect demonstration of reverse causation, i.e., psychological distress in the preclinical phase of dementia rather than psychological distress 'causing' dementia."
— Dr. Archana Singh-Manoux
Dr. Sulkava explained that the association between psychological distress and Alzheimer's disease probably did not survive the sensitivity analyses because of historical limitations.
"The diagnostics of Alzheimer's disease in Finland beg[a]n only in the mid-1990s, while dementia diagnoses [we]re made already in the 1970's when the FINRISK study beg[a]n," she said.
When asked about the next research steps, Dr. Sulkava told MNT that larger studies and longer follow-ups will be needed.
"Stress, exhaustion, and depressive symptoms are tightly linked to sleep problems, which are suggested to be risk factors for dementia too. However, most epidemiological studies lack large enough sample[s] or long follow-up," she said.
"Our next step is to study sleep problems and sleep length and dementia risk using the large Finnish cohorts," she added.