The Teens Already Using Anti-Aging Skincare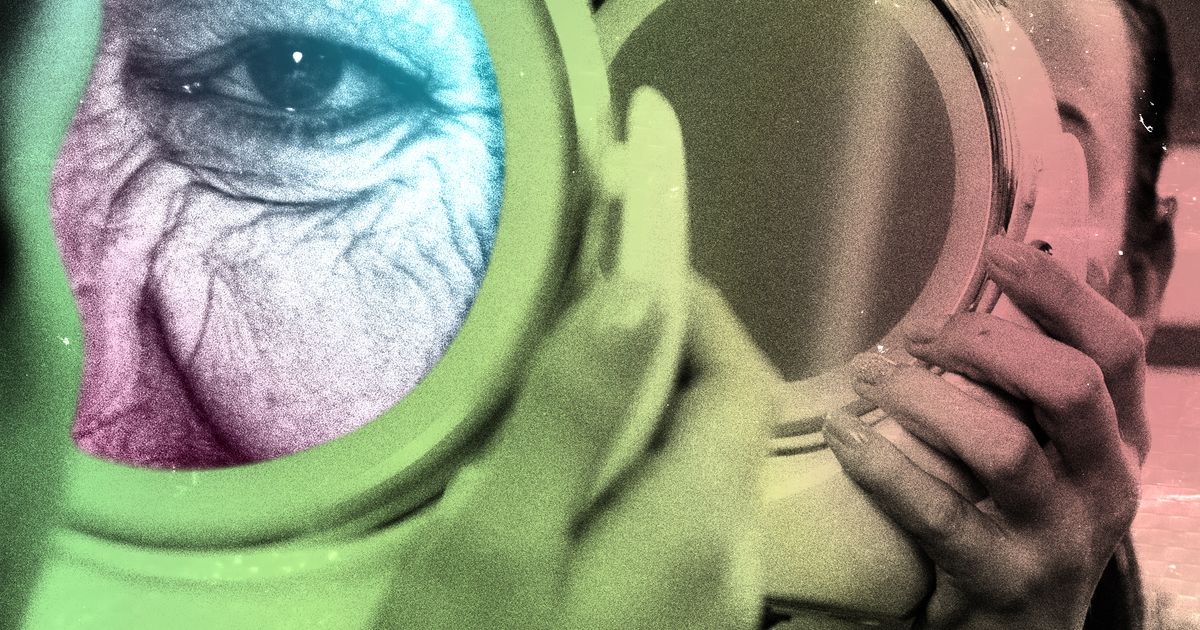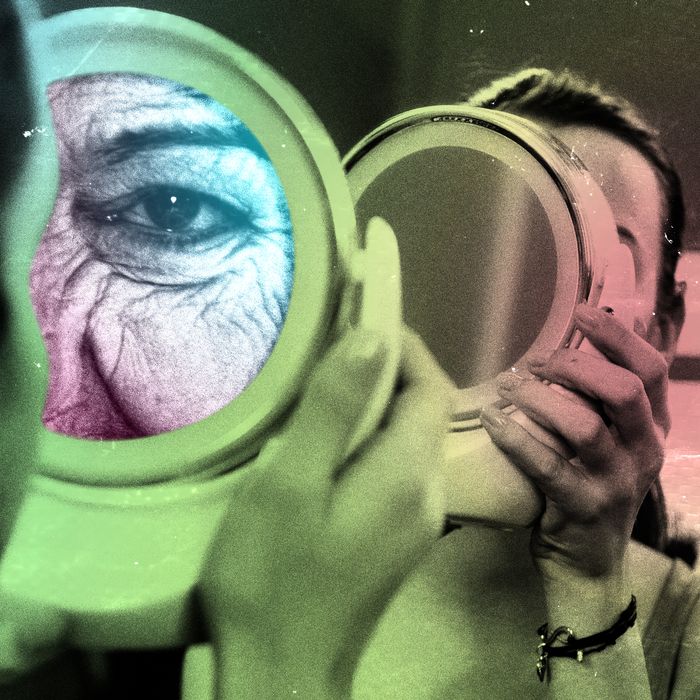 Photo-Illustration: The Cut; Photos: Getty
Every weekday, Carson Bradley wakes up to the sound of her alarm at 4 a.m. to squeeze in enough time for her "basic" skin-care routine, which usually takes around 25 minutes, before her day begins. She begins by setting the mood, putting on a silk pink robe, lighting a scented candle, and playing music, usually something like Lana Del Rey, in her brightly lit bathroom. Then, she gets to work: double-cleansing and applying toner, vitamin C serum, glycolic acid, and salicylic acid, finishing off with two different types of moisturizer. "I use a lot of glycolic acid, because it's texture smoothing," she explains. "And I use an excessive amount of moisturizer, even though I don't have dry skin — it plumps your skin."
Bradley does all of this again before bedtime, with the addition of a few more eye creams and patches and an over-the-counter retinol. Occasionally, she'll use a gua sha.
Despite what it sounds like, Bradley isn't doing this to combat existing wrinkles. She's 14 years old.
Earlier this year, Bradley posted a TikTok of her daily skin-care routine to her 36,000 followers. In the 70-second-long video, we see her take two apple cider vinegar pills, apply retinol, do a ten-minute face mask, and drink green tea with raw honey before getting in a car with a piece of paper taped to the window to block out the UV rays. "Here are some things I do to slow down the aging process as a 14-year-old," Bradley narrates. "I started doing most of these things at 12."
The TikTok was soon shared to Twitter, where it went viral. One tweet, liked almost 75,000 times, resharing the clip reads, "Whole beauty industry is going to hell, this is so bleak." Others expressed their horror at seeing a teen use retinol twice a day (after reading this, Bradley now only uses retinol in the evenings).
"I completely understand it," Bradley, who is from Alabama, tells me about the response to her TikTok. "And I genuinely agree with it." Despite what her skin-care routine might suggest, Bradley insists that aging is not something she obsesses too much about. "My family ages pretty good," Bradley says. "So it's just like a precaution, you know" — mostly, she says, against the sort of things that creators in skin-care and makeup tutorials tend to complain about most or want to conceal like "sunspots and frown lines and definitely crow's feet."
Bradley grew up watching makeup tutorials by the likes of James Charles and NikkieTutorials, which led her to videos about skin care on YouTube. In her bedroom, in stolen moments at school, or at sleepovers with friends, Bradley has watched countless videos about Korean and Japanese skin-care products, celebrities like Hailey Bieber recommending their favorite anti-aging brands, and TikTok-famous dermatologists explaining how to stave off wrinkles. The message from these skin-care experts when it comes to anti-aging routines is clear. "They always say the younger you start, the better," Bradley says.
While Bradley's TikTok might have shocked some corners of the internet, it's hardly surprising. "Beauty products sell best when they create a feeling of fear and vulnerability," says Renee Engeln, a psychology professor at Northwestern University and the author of Beauty Sick: How the Cultural Obsession With Appearance Hurts Girls and Women. Cosmetics companies used to market skin care to teens based on eliminating zits; now, fine lines and wrinkles have also become the enemy. "The sooner they can get young girls worried about another thing that might go wrong with their appearance, the more they can sell," Engeln says. "And if you can start selling anti-aging creams earlier and earlier, it's a way to grow market share and to build loyalty early to your brand." Recently, the skin-care brand SpoiledChild released an anti-aging line specifically targeted at Gen Z with the slogan: "GETTING OLD IS GETTING OLD."
This push to market anti-aging skin care to ever-younger consumers is breeding new anxieties in teen girls, with concepts like "preventative aging" leading some to worry about what getting older will look like.
"The beauty standard is to stay young, and I do try to fit the beauty standard," says 15-year-old Lorna Garcia. Earlier this year, the high-schooler from Missouri posted a video to TikTok about her concerns over wrinkles, which has since been liked 723,000 times. In the video, we see Lorna inspecting her face, with a caption that reads, "Me wondering why I'm starting to get forehead lines at 15." It then cuts to a clip with the caption "also me every morning," which shows Lorna applying mascara, her eyebrows raised. The post was inundated with comments like "I was literally crying about this last night" or others advising her to use hyaluronic acid and retinol.
Lorna has since made some adjustments to her skin care (she now repeats her routine in the evening), but her fear of developing wrinkles has persisted. She says that there is a certain pressure to keep up with her friends. "If I have good skin, that's great — but so does everyone else," she says. "It's like a form we all have to fit into." If her skin-care routine fails to stave off wrinkles, Lorna says she would probably consider Botox when she's old enough.
"I'm noticing an increased interest in procedures involving younger people who are coming in when they have absolutely nothing, but they're so afraid of the aging process," says Shereene Idriss, a dermatologist based in New York. Idriss won't hesitate to turn away younger clients who come to her with no wrinkles or fine lines asking for Botox. "I tell them listen, very honestly, as crass as this sounds: 'You're wasting my time.'"
In the last few years, Fayne Frey, a dermatologist and author of The Skincare Hoax: How You're Being Tricked Into Buying Lotions, Potions & Wrinkle Cream, has also seen "plenty of young patients who come in, and I don't even think they're really concerned about any particular wrinkle," she says, "they just think it's something they're supposed to do." Which becomes obvious when Frey says she educates young clients on the realities of the procedure, and they change their minds. "The overwhelming majority of people who come to me because they want to just belong wind up not injecting or doing anything," she says.
Heather Bowling, 19, says that getting Botox has made her an "anomaly" in her friendship group. Bowling started to worry about the lines on her forehead a couple of years ago while on vacation. "I always had forehead wrinkles," she says, "but because of a lot of sun exposure, they had left a prominent crease in my forehead." She started to see videos on her "For You" page of people getting "baby Botox," which inspired her to get the procedure for the first time herself. "I feel more confident seeing pictures and videos of myself now," she says.
For many young people for whom skin care equals self-care, anti-aging routines and products are often thought of as about more than something that will make them look good later — it'll also make them feel better now. For Caroline Bennis, a 22-year-old from Washington, Botox is just the most recent addition to her yearslong skin-care regimen, which she began doing, she says, at 14. Bennis has struggled with self-image in the past, she says, and having a skin-care routine allows her to feel more in control. As the sheet of pink paper taped to her bedroom wall reads, "SELF-CARE IS IMPORTANT DO THIS FOR YOU."
"Growing up I was like the ugly kid that nobody wanted to hang out with," she says. "So now I'm just trying to do things for myself and things that make me feel confident in my own skin and my own body."
Part of the concern for Bennis has always been about smiling or raising her eyebrows too much. "I have a very expressive face, so it's just something that I know that's going to affect me in the future if I don't get [Botox] now," she says. "My friends are like, 'Oh, now that you have Botox, you look like a baby bunny' … [now] my expression is on the gentler side."
On that same note affixed to her bedroom wall is a list of products, some of which she's been using since a young teen, to use as part of the daily anti-aging skin-care routine she began doing two years ago.
Step 0: I use a micellar water cleanser (only if I wear makeup)

P.M.:

1. Gentle cleanser or once a week salicylic acid cleanser

2. The Ordinary niacinamide (one drop all over)

3. The Ordinary hyaluronic acid (one drop all over)

4. The Ordinary caffeine solution (one drop spread under both eyes)

5. The Ordinary retinol (one drop every other night) in CeraVe moisturizer (dime size every night) (FACE+NECK)

5. CeraVe healing ointment (on lips and left over all over) (tiny amount ALL OVER)

A.M.:

6. Spray sunscreen EVERY DAY in A.M. on face, neck, and hands.
"Even if I get tired of doing it, I just push through it knowing that at the end of the day, this is all gonna be worth it," she says. "Eventually it's gonna be like, 'Wow, you're 40 years old and you don't even look like you're 20.'"
With teen girls now reporting record levels of sadness, it's not at all surprising that several are investing this much time and money into skin-care products containing vague promises of improved mental well-being. "When I go out of my way to buy a product, it's marketed as, 'It'll make you feel relaxed,'" Bradley says. "A lot of the marketing sells a lifestyle. When you buy it, you feel like you're being that girl."
As Idriss sees it, brands promising improved mental health should be approached with skepticism. "I don't think cosmetic products should be offering a solution to mental health and making such large promises for people," says Idriss. It doesn't help that younger consumers are likely to be more "impressionable" to these promises, she adds.
Engeln makes a similar point. "I don't doubt that some people do enjoy skin care," she says. "But if your self-care is driven by fear of becoming ugly, because you show visible signs of aging — is that self-care?"
Being bombarded with images of "perfect" skin and filters such as "old age" — which allow users to see an "older" version of themselves — has helped instill this fear in a generation of girls and women. Meanwhile, trends like "dolphin skin" or "glass skin" are leading people to pursue poreless, smooth skin that more closely resembles plastic than flesh. "The volume of beauty advice and targeted ads that young people are getting today is incredibly intense," says Engeln. "On social media, you regularly see people with unreal skin. And I think it can sort of feed this obsession with a level of skin perfection that truly does not exist in the world — at any age."
This is something Bradley sometimes wrestles with. After using TikTok's "light makeup" filter, which appears to smooth skin and remove imperfections, she felt frustrated that despite her extensive routine, her skin didn't look as good as with the filter on. "I needed to remind myself: No one's skin is perfect," she says. The old-age filter left Bradley feeling scared and anxious about what she might look like when she's old. It was a moment that forced her to consider why she feels the way she does about aging. "I was like, When I get to the point where I look like that, first of all, will I really care? Second of all, I know I'm going to be a hot old lady in my soul," Bradley says. "So I shouldn't worry about it until I get there."
Lately, Bradley says, her 10-year-old sister has started doing a similar routine to her, using moisturizers and cleansers. Bradley recently asked her, "Are you doing it for fun, or because you feel insecure?" Her sister replied, she says, that she's doing it for fun.